PASTEL TIPS
DIFFERENCE BETWEEN HARD AND SOFT PASTELS
Hard pastels have more binder less pigment, therefore slightly less vibrant; this makes them ideal for finer detailed work. They are also used as under paintings before applying soft pastels. These in turn have a reduced binder and more pigment making them prone to smudging, giving them that velvety feel.
WHAT CAN PASTEL BE REMOVED WITH ?
Pastel can be removed with a bristle brush or a putty rubber for best results.
WHAT PAPER SHOULD I USE ?
Any paper with a tooth. A tinted paper will created a mood as well as a background.
HOW DO I KEEP PASTELS CLEAN ?
Rice or cous cous will keep pastels clean.
HOW TO SHARPEN PASTELS
With a scalpel or craft knife. Easiest way to sharpen a pastel to a point is to rotate the pencil around on a hard surface shaving it as it revolves.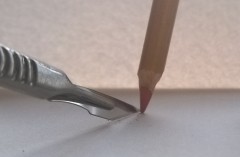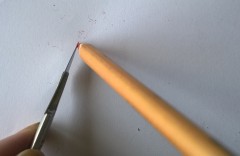 POINTS VS CHISELLED EDGES
I once worked with pointed pastel pencils only, until I was introduced to chiselled edges by friend, Wildlife Artist Eric Wilson. This changed my working method in that I could vary the pressure while applying the pastel; use the side of the pencil, and for optimal results I had fuller strokes. A combination of the two works well in most instances.
WORKING WITH HARD AND SOFT STICKS
There are two types of pastel, whether it is pencil or stick form and there are many manufacturers; this is very much a personal choice. The only point I can mention here is, soft pastel sticks work best when used for backgrounds and loose work. It is very difficult, if not impossible to work on top of using pastel pencils.
SHOULD I USE A FIXATIVE ?
Personally I find the use of fixative tends to dull pastel work, so I do not use it; not only that it also causes pale colours especially white to speckle. When using pastelmat, my preferred medium, there is no need to use it, if using other types of paper, a light spray of fixative to the back of the work will ensure not only that the painting is well preserved but it is also unblemished.
WHAT CAN YOU USE TO BLEND PASTELS WITH ?
The following can be useful; tortilion, colour-shapers, paintbrushes, fingers!! cotton buds; putty rubber. If too much pastel has been applied a cotton bud can double up to easily remove those dust particles. Work light handily, or work will appear too muddy. Working from dark to light is not always the case, light areas should be worked at the initial stages. When working with shadows, there is a tendency to use black as the main colour, but it is contrast with the surrounding colours that carry the work.
WHAT CAN I DO WITH EXCESS PASTEL DUST ?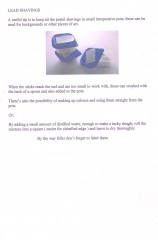 A useful tip is to keep all the pastel shavings in small inexpensive pots; these can be used for backgrounds or other pieces of art. When the sticks reach the end and are too small to work with, these can crushed with the back of a spoon and also added to the pots. There's also the possibility of making up colours and using them straight from the pots. Or; By adding a small amount of distilled water, enough to make a tacky dough; roll the mixture into a square ( easier for chiselled edge ) and leave to dry thoroughly. By the way folks don't forget to label them
WHAT IF I MAKE A MISTAKE ?
Can't figure out the issue, what is incorrect about the painting? Either take a photograph or use a mirror. At the very least, there's time to take a careful look and assess were the oversights are.
WHISKERS
Can prove difficult with pastel; if they are vague or pale, then they are best in pastel. A pushing motion of the pencil creates the best effect for depth and clarity. An indent in the paper using a blunt device, will craft a high-quality result, which is all well and good on white paper! But there is an advantage to using coloured paper also; the airiness of the pastel does not fall into the wells made by the indent marks, so you can see were the whiskers lie. Heavily defined whiskers can be painted on using white gouache. It can be tricky to use and the right consistency requires a little patience, so a test run is advisable. The easiest way to remove it is with a scalpel or artists knife….carefully.
WHY DO AN UNDER-PAINTING ?
Doing an under-painting creates a warm mood and tone to the whole composition. Each subsequent layer when worked lightly will still have the tonal values of the under-painting shine through to help it progress to the final layers.
WHAT IS LAYERING ?
Applying pastels one on top of the other.
WHAT IS BLENDING ?
This is where a painting is rendered, using more than one colour. There are a number of implements to do this; cotton buds, colour shapers, hands, putty rubbers, tortillon, kitchen roll etc.
WHAT IS SCUMBLING ?
Side strokes are blended along an existing background. Lightly drag a soft pastel along its side across the top of your work. The result is a broken layer of new colour over the top.
WHAT IS POINTILLISM ?
making small dots across the work. This can be a difficult and time consuming process.
WHAT IS TONAL VALUE ?
This is the difference between light and dark within a colour; for instance a dark green will have more tonal value than a light green.
WHAT IS VALUE CONTRAST ?
Contrast is the difference between the tonal values. This allows a subject to appear as 2D/3D. It is not necessarily the addition of black, in fact quite the opposite; colour that highlights/shades and gives shape and form to the topic. Without contrast the subject matter will appear flat.
WHAT TO LOOK FOR IN A REFERENCE PHOTOGRAPH
Its most unlikely to find a shot your happy with and some changes may be likely. So what to look for; Composition is a must, get this incorrect and you will struggle. In compositions the eye must lead you in. Good use of contrast. If you have taken the picture yourself, look at others in a similar pose you may have one with great contrast, refer to that one when applying the contrast. Lighting, look where the light falls on the subject; if this isn't obvious and you feel it needs to be, make it so. Watch out for bleached white in a photograph, there could be lots of shades underneath. Colour, paint what you see, not what you don't; this is realism in wildlife art. ie if you see green in a lions fur put it in, if you think purple would look good and it's not there well, do not put it in..... Do not be frightened to change and move around the subject matter with the photograph. A final word about copyright; always get permission to use someone else's picture, or you may find yourself being sued. If you find one on Google and you have no idea who it belongs to just go to this site and it will hopefully tell you. http://www.tineye.com/ If not leave well alone. There are plenty of reference sites, you can find these listed on my blog. http://sublimedesignz.co.uk/dotcl/index.php?category/INTERESTING-SITES